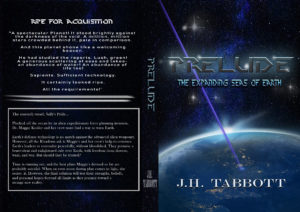 One  interesting thing about the original image for the cover is that there were two small disc-shaped elements hovering together near the planet's surface.  As they were angled and aligned identically, and as each had a notable center, it strongly suggested something had passed through those centers – thus creating the effect.
This odd effect seemed a shame to waste, especially since my story does include the use of several forms of energy beam.  Suzanne Johnson*, who is not only patient (with my questions), but also immensely talented, came to my rescue with this (above) reiteration.
Unless some inspired publisher throws money at me and insists  on using their own cover art, I consider this a keeper.  So how does this grab you? I'd love to hear feedback.
*To see other of Suzanne's work, her website is: http://dsjohnsonbooks.com/gallery